Posted on Wednesday, October 24, 2012
BRUSSELS, BELGIUM – We have finally crossed the Atlantic and begun the European leg of our adventure. Fortunately, we had a very uneventful flight from Cancun to Brussels (minus the unhappy newborn in the seat behind us) and landed in Belgium after a short 9 hours. After the quickest international entry either of us has every experienced (at max we spent 20 minutes between disembarking our plane and exiting the security zone in the airport) we took a train into downtown Brussels towards our base for the upcoming week, an apartment just a few blocks south of the city center.
Since our first trips to Europe we've loved everything about this part of the world. Above all, we are drawn to the food (bread! butter! chocolate! sausage! wine!), history, melding of cultures, architecture and a well-designed and connected train network that doesn't exist elsewhere in the world. One additional aspect that we love so much about Europe is the attention to detail. From shop windows and store displays to the personal appearance of the passersby, the energy and thought that has been put into design and esthetics is clear. Oh, to be so chic!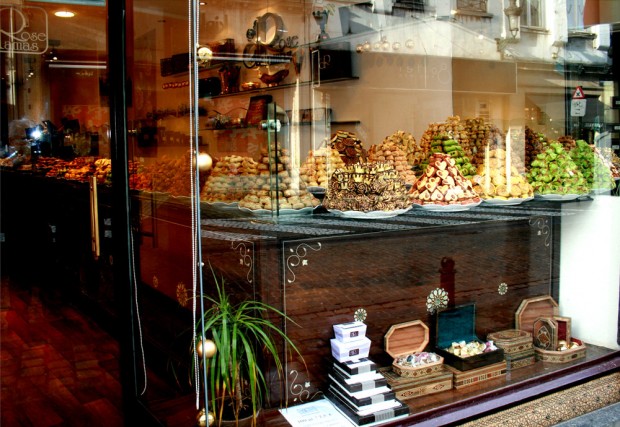 As we've written before, the bus systems of Central and South America trump that of the United States; even cross- and multi-country, first-class buses are a very economical and reliable way of moving around the various countries at rates as inexpensive as 1-2 U.S. dollars per hour. However, the European train system is, while more expensive, more organized and comfortable. The cars and tracks are so well built that there is little to no vibration felt at all from within the train cars, even when moving at impressive speeds of up to 215 miles per hour.
Often called The capital of Europe, Brussels is the headquarters of NATO and the unofficial capital of the European Union. While it is a very walkable and pedestrian friendly city center, it is also extremely well-connected by the metro, trams, light rail, train, bus, as well as public bicycle and car share programs. It is refreshing to walk down the street safely and have the right-of-way as a pedestrian; one thing that is definitely not the case in Central and South America.
We began exploring the city just after our feet hit Belgian soil and our bags were dropped off at the airy apartment that our friend, Wim, owns. Within minutes of walking we reached the Grand Place, the gothic central square. Understandably this plaza is one of the prides of Belgium; a Dutch website performed a survey in 2010 which rated the Grand Place as the most beautiful square in all of Europe (with Moscow's Red Square and the Place Stanislas in Nancy, France, taking second and third place). Full of tourists, chocolate shops and restaurants serving the traditional dish of moules frites (mussels and fries), this plaza is definitely a sight worth seeing.
Throughout the week we explored the multi-cultural streets of Brussels, ate chocolate and drank coffee in quaint cafés.  As you can tell from our photos, our wardrobe has undergone a considerable modification; we are now sporting gloves, coats and lots of layers rather than swimsuits, shorts and sundresses. During the first days after our arrival temperatures dropped down to the 30s and 40s with highs in the low 60s. Luckily for us (as well as the locals), we also experienced several days of unseasonally warm weather with highs in the 70s later in the week.
Brussels is also the self-proclaimed Capital of the Comic Strip; the city is home to the artists who created such characters as Lucky Luke and Tintin. Throughout the city, you can walk what has come to be known as the Brussels' Comic Book Route to see each of the more than fifty murals depicting different scenes from various comic books. We saw fifteen or so on the route but our favorite is below from the Odilon Verjus comic strip.
Though the country is tiny (only about the size of Vermont), Belgium is home to an astounding 350 beers. We visited the only remaining classic brewery in downtown Brussels, The Cantillon Brewery. They brew lambic beer, which is only produced in and around Brussels. Wikipedia describes this unique type of beer as follows.
Unlike conventional ales and lagers, which are fermented by carefully cultivated strains of brewer's yeasts, lambic beer is produced by spontaneous fermentation: it is exposed to the wild yeasts and bacteria that are said to be native to the Senne valley, in which Brussels lies. It is this unusual process which gives the beer its distinctive flavour: dry, vinous, and cidery, usually with a sour aftertaste.
Cantillon also brews kriek (cherry beer), faro and gueuze, all of which we sampled after our tour.
We arrived in Belgium just in time to experience the changing colors of fall, which was even more obvious during our trip to Brugge, a quaint canal town just 50 miles northwest of Brussels. Famous for its medieval buildings, café lined streets, cathedrals and, of course, canals, this tiny historic city is nicknamed "The Venice of the North," and is a common day trip from Brussels. The city actually once lost its direct access to the sea due to gradual silting only to regain it years later when a storm created a natural channel re-connecting the town to the sea.
During our day in Brugge we meandered down cobblestone streets, explored the areas both in and outside of the tourist zone and finally had our first Belgian Waffle. The town's most famous landmark is its 13th-century belfry which houses 48 bells; to this day the city employs a full-time carillonneur to sound the bells each day.
Though there are many windmills still standing in West Flanders, only four still exist of the twenty-five that once stood in Brugge. While the streets of central Brugge were packed, these beautiful landmarks are located in an area of town where very few visitors venture out to, creating a wonderful opportunity to seem them privately.
Finally, we met up with Jessica, an old friend from Champaign, Illinois, who had moved to Belgium two years ago to start a family. Jessica, Kristian and Bella: it was so wonderful to spend time with you and have a small glimpse at your beautiful lives. And to our friend Wim, who was so generous to allow us to stay in one of his apartments and join us for great conversations over delicious meals at his home – thank you! Our exploration of the city combined with great conversations over tea and meals with new and old friends made this week in Belgium one we will never forget.
Excitedly, we're now off to visit Amsterdam for a long weekend. Check back soon for our next update from the European road.
Posted:
October 24th, 2012 |
Filed under:
Belgium
,
Travel Updates
|
Tags:
Belgium
,
bell tower
,
Bella
,
Brugge
,
Brussels
,
canal
,
Cantillon Brewery
,
Capital of Europe
,
Capital of the Comic Strip
,
carillonneur
,
chocolate
,
comics
,
Couchsurfing
,
European Union
,
Grand Place
,
Jessica
,
Kristian
,
Lucky Luke
,
moules frites
,
NATO
,
pedestrian
,
Tintin
,
train
,
wardrobe
,
West Flanders
,
Wim
,
windmill
|
No Comments »
---