Posted on Thursday, October 18, 2012
PLAYA DEL CARMEN, MEXICO – As a small interlude to our round-the-world trip (RTW to those in-the-know) we were fortunate enough to spend three full weeks with the majority of our immediate family and one full week with new friends in the Riviera Maya on Mexico's gorgeous Yucatan Peninsula. We enjoy this part of the country so much that each of our three visits to this area have gotten consecutively longer over the years. For us, the magic of the area not only lies in the Caribbean's turquoise waters and coral reefs, awesome Mexican coastal fare and gorgeous beaches, but also a touch of romance and nostalgia; we were married just to the north of these same beaches just two years ago. During these weeks, however, we celebrated another Dobson wedding: that of Dustin's brother, Danny, and his beautiful bride, Lisa. We'll get to those nuptials soon enough! First, we began our four gorgeous weeks with another visit from Theresa's mother, Ann.
Ann experienced a much more vacation-style trip with us this time, compared to that of our two-week Colombian adventure just four months prior. Instead of riding buses, hiking and sleeping in hostals each day, we stayed at Casa Milagro, an incredibly designed and immaculately maintained private home in Playacar just a few steps from the beach and a short walk from downtown Playa del Carmen. Most every day we woke up late, leisurely ate breakfast, laid by the pool or in the palapa, played Rummikub (one of Ann's game obsessions) and took walks on the beach combing for shells. We cooked in the home's gorgeous kitchen and slept in the most comfortable, luxurious beds since we left our home eleven months ago.
As one of Ann's bucket list activities was to zipline over the jungle, we visited the Yucatan's newest adventure park, Xplor. Boasting the longest ziplines in Latin America (satisfying Ann's need for speed!), this park also offers swimming and paddling through underground rivers and ATV rides through the jungle.
We spent an entire day meandering from activity to activity and eating in the park's delectable restaurant. It took us a few hours to figure out the hidden (and not-so-hidden) camera system, but when we did you'd better believe that we spent the day having our photos taken. We each wore a helmet with a number across the front so that the computers can identify and organize each photo after it is shot. At the end of the day when the park closes, we were offered a thumb drive of the photos. Ann couldn't pass up the opportunity to own these photos of our exciting day at Xplor and we're glad she insisted; the photos are hilarious.
Besides enjoying cocktails by the pool and catching up on what had happened in each of our lives over the last several months, we also spent one day snorkeling off the coast of Cozumel. We took the ferry across the canal to downtown San Miguel on Cozumel and picked up our rental car to begin our day touring the island. Ann had visited the island some fifteen years ago during a Caribbean cruise, but she insisted that much hadn't changed in that time. We spent our day circling the island in our rental car, stopping at picturesque beaches to snorkel, relax and have a picnic that we had prepared back at the house. During our forays into the warm caribbean waters off of Cozumel, we saw an array of sea life: sea cucumbers, moray eels, star fish, sea stars, small bunches of coral and, of course, lots of tropical fish. Finally, before heading back to the mainland we enjoyed a few margaritas by the ocean and circled back around the island to downtown San Miguel to return our car before re-boarding the ferry to Playa del Carmen.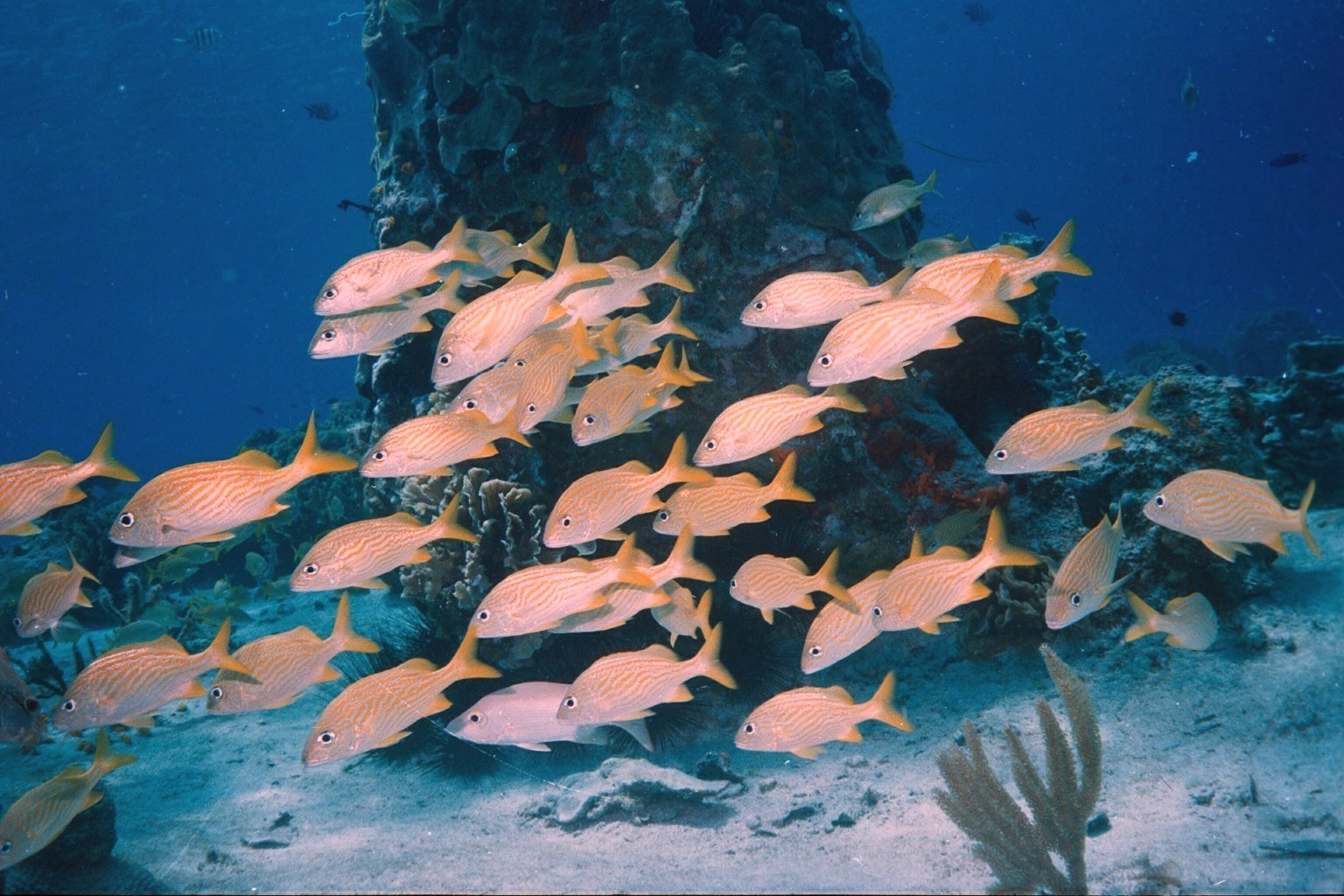 We also spent a day exploring the ruins of Tulum. Situated on top of 40-foot tall cliffs with the azure Caribbean waters below, this site is definitely not-to-be-missed for someone visiting the Yucatan Peninsula. Constructed in the year 1200, the ruins are almost a thousand years old and are some of the most intact of the coastal Mayan ruins still in existence today. While Tulum doesn't offer the height of other archaeological ruins in the area, such as Coba, the location on top of the bluffs as well as the great condition of the fortress wall and main buildings make the ruins impressive still.
The night before she left, Ann treated us to a magnificent meal for our last dinner together at Oh Lala!, one of the highest rated restaurants in Playa del Carmen. George, the chef and owner, turned out to be a dive master and scuba instructor (which was the reason he initially moved to Playa del Carmen), and told us about Akumal Bay (aka Turtle Bay or Half Moon Bay). Here, just a few miles south of Playa del Carmen, one can snorkel in the shallow, calm waters with docile Green sea turtles, lots of fish and large sting rays.
Unfortunately, we didn't find out about the bay soon enough to visit it with Ann, but we did have a chance to do so with Dustin's father, Vince, and Jacque, his step-mother, during their visit the following week. The four of us spent the entire day laying on the beach and snorkeling amidst the fish, rays and enormous sea turtles. The safety and calmness of the bay, along with the unlimited food source of sea grasses makes this a perfect place for the Green sea turtle to reside and for interested divers and snorkelers like ourselves to observe from up close.
After many incredible meals (the most memorable and delicious of which was at Xulam, The Mayan Fisher; we highly recommend a visit to this amazing restaurant!), cocktails by the pool and five lazy days with Vince and Jacque we were ready for the third phase of our vacation: checking into Dreams Riviera Cancun to celebrate Danny and Lisa's wedding. Each day leading up the wedding we were reunited with more and more family members and friends who had flown to Mexico to celebrate on the beach with the soon-to-be newlyweds. Each day was characterized by passionate volleyball matches on the beach, dips in the pool and ocean, Hobie Cat  sailing and wonderful group meals.
Finally, when Saturday rolled around we witnessed the marriage of the bride and groom. Lisa's father performed the beautiful ceremony on the beach in front of the fifty or so teary-eyed guests. An hour or so after the dance party/reception began, the rains that had held off for the past few weeks decided that it was time to fall. As the wind began to blow and a few sprinkles fell the party retreated to the hotel dance club and bar to finish the night on the dance floor.
We had such a wonderful reunion with our family and were so pleased and fortunate to have been able to fit it into our RTW trip schedule. In the days following the nuptials the wedding guests at the resort began to trickle home, leaving us to have more intimate time with those who were left. Finally, after seven days it was time to check out of the resort and mentally prepare ourselves to be back on the road.
We spent our last few days back in Playa del Carmen with new friends who we'd met through Couchsurfing, refreshed our scuba diving skills with Scuba 10 and celebrated both our two-year anniversary and Theresa's 29th birthday. It was a wonderful end to both our month in Mexico and our 11-month tour through Central and South America.
As we say goodbye to Latin America for now, we couldn't be more excited to begin the next leg of our trip in Western Europe. Theresa hasn't visited this part of the world since studying in Milan in 2006 and Dustin since his video game press tours through Northern Europe in 2008 and 2009. We're excited to go back, to explore as well as to celebrate the holidays with Sandrine, Theresa's French sister, and her family outside of Angers, France. We're leaving on a jet plane on October 16th and will update from Brussels, Belgium: the Capital of Europe!
Posted:
October 18th, 2012 |
Filed under:
Mexico
,
Travel Updates
|
Tags:
Akumal Bay
,
Ann
,
Anniversary
,
birthday
,
Caribbean
,
Casa Milagro
,
Couchsurfing
,
Cozumel
,
Danny
,
Dreams Riviera Cancun
,
Green sea turtle
,
Half Moon Bay
,
Lisa
,
Mayan Fisher
,
Mexico
,
Oh lala!
,
Playa del Carmen
,
rays
,
round the world trip
,
RTW
,
San Miguel
,
scuba 10
,
sea turtle
,
snorkeling
,
Tulum
,
Turtle Bay
,
wedding
,
Xplor
,
Xulam
,
zipline
,
Ziplining
|
No Comments »
---