Posted on Sunday, August 5, 2012
COLÁN, PERU – We've found that one of our biggest passions and reasons why we love traveling so much is the immense variety and beauty in landscapes and wildlife that we see along the way. Perhaps above all, it's been eye opening to see the vast amounts of dogs in all conditions that park themselves on every street corner throughout Central and South America. When we found out about the San Francisco de Assisi Humanitarian Association, it made sense for us to jump at the chance to spend some time volunteering there with the animals. Rosemary, the 69-year old founder of the association, explained to us that Colán was a great location to spend some time in and enjoy the incredible Pacific sunsets. Most importantly the difference we could make with her association and all of the animals would be well worth the trip.
Since we were excited to help, we quickly made our way back through Colombia, stopping again in Mocoa (in southern Colombia) for a few days in the jungle, and then spent another few days in Ecuador. We'd be returning through Ecuador during our next trip back to Colombia, so we planned on exploring more of the country during that leg of our travel. We spent one night in Quito, a beautiful, rather large colonial city cradled by the Andes, and three nights in Mindo, just a few hours outside of Quito.
Mindo is known for its flourishing ecotourism industry and also as the hummingbird capital of Ecuador. We stayed in a quaint lodge a few blocks from the town center, relaxed for several days and enjoyed the natural beauty of the area. Mindo's green cloudforest, rivers and creeks streaming through every mountain pass and super friendly locals made us think back to a handful of other beautiful locations we've been on our travels, such as towns around Lake Atitalan, Guatemala or Santa Fe, Panama. Also, Ecuador's delicious fresh food and new menu items provided a slight reprieve from the typical Colombian fare that we had recently been growing slightly weary of during our travels and so we were happy for the change of pace.
We departed on the journey from Quito and after thirty hours of direct travel (via multiple buses, taxis and tuk-tuks) we were exhausted, but had arrived in Colán. We were relieved as we glimpsed the Pacific Ocean during our descent from the dry mountain crest down into the town. Again, we had very little idea what lay ahead of us in terms of lodging, accommodations and volunteer projects, but we were excited at the prospect of making a difference and of being around animals again.
We arrived at Rosemary's home and the base for her foundation's activities early in the afternoon. We immediately found out that our host wasn't a typical local; while she was born in the area, her father was South African and her mother Peruvian. So, she lived 12 years during her childhood in this area before her family relocated back to South Africa, where she spent much of her life before eventually returning back to her roots. Her personality and lovely South African accent mixed with the wonderful non-profit that she has founded instantly made her an inspiration for us and had us looking forward to the weeks ahead of us.
Rosemary enthusiastically showed us around her garden, animal shelter and clinic, and introduced us to all of the rescued animals: cats, dogs and tortoises are taken care of here, some as permanent fixtures and others that are looking for a suitable home. We felt right at home surrounded by dogs and amongst the madness of all of the animals against the colorful garden setting.
Rosemary founded AHSFA in 1996 when she decided that she personally could do something about the animal overpopulation and astonishing number of homeless, hungry, and sick cats and dogs around northern Peru. Her association staffs two full-time veterinarians, Ingrid and Raúl, who run a mobile clinic in the nearby towns four days a week and also work at the on-site clinic in Colán each Thursday. These veterinarians offer spays and neuters, general and emergency veterinary visits, flea and tick treatment, equine services and more at rates that are practically free to a population that would otherwise not treat their animals to such necessities. For example, monthly flea and tick treatment is virtually given away at 1 Peruvian Sole, or around 38 US cents.
The funds to support her association primarily come from several international donors, such as the Bridget Bardot ­­­­­Foundation, however Rosemary has to campaign yearly to these and other associations requesting continued support. Also, she has begun a plant nursery and creating and selling compost in order to generate more funds for the animals' treatment. If you'd like to make a donation to help spay, neuter and give general care to the animals of northern Peru, please click on the button provided.
Colán turned out to be a very sleepy beach town at this time of year, allowing us to focus on our projects as well as the animals. While this fishing town isn't very different than many others along the Central and South American coast, it does boast the Iglesia San Lucas de Colán, the first church built by the Spanish in the Americas making it one of (if not the oldest) church on the continent.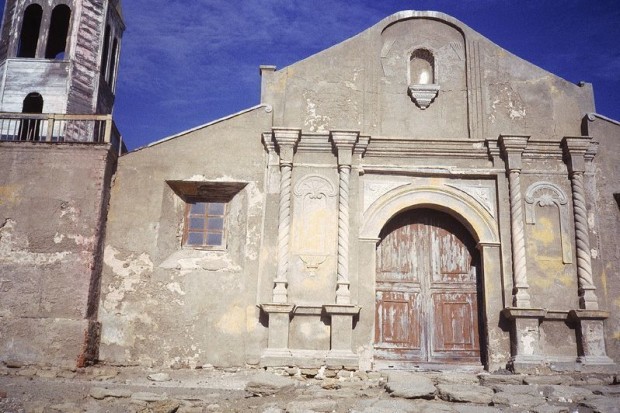 While the sea is mostly un-swimmable this time of the year (due to stingrays and jellyfish), the continuous sound of the waves crashing on the beach was more than beautiful and soothing to hear in the background both day and night. And Rosemary was right; the sunsets from Colán's beaches are really incredible.
During our months' time at her home and foundation we assisted with many daily tasks, as well as helped better the property and animals' lives and homes. We were actually the first non-veterinarian volunteers to be hosted there, and so we filled a gap by assisting with many creative projects. We walked up to eight dogs along the beach daily, designed ceramic pots and murals, and assisted with feeding and caring for recovering animals. Our favorite was a very young puppy named Rufie (the vets had apparently watched the movie The Hangover) that we fell in love with as we helped nurse him back to health.
We worked on "glass bottle walls," painted doors, gates and bodegas located on the property, and helped Rosemary with her online presence to encourage future volunteers. We also continuously participated in the search party for mischievous dogs, cats and tortoises who had cleverly escaped from their enclosures. One of the creative projects, and that which we are most proud of, was the complete renovation of an enormous gate and the subsequent repainting of a hand-painted mural of the patron saint of animals, Saint Francis of Assisi.
We will always remember Rosemary, the animals and this trip to Peru with great fondness. We wish Rosemary the very best and look forward to seeing her (and Lyka, Pinky, Pampa and the rest of the animal gang) again in the future. We've put together a photo-journal of our time here, documenting many of our creative projects, the wonderful animals, and incredible moments we've had.
Most people don't have the time or opportunity to volunteer in the ways that we have done in northern Peru. But you can still help. If you would like to make a small (or sizeable) donation to Rosemary and her incredible association and help out the animals in need in Peru, please use the donation button provided.
From here we begin our trip back through Ecuador, stopping at a few sites along our way back to Colombia, where we plan on spending another month in Medellin's beautiful scenery and climate.
Posted:
August 5th, 2012 |
Filed under:
Colombia
,
Ecuador
,
Peru
,
Travel Updates
|
Tags:
AHFSA
,
Animals
,
Bridget Bardot Foundation
,
cats
,
Colan
,
dogs
,
donation
,
Ecotourism
,
Ecuador
,
hummingbirds
,
Iglesia San Lucas de Colán
,
Mindo
,
Peru
,
Quito
,
Rosemary Gordon
,
Saint Francis of Assisi
,
sunset
,
tortoise
,
veterinarian
,
volunteer
|
3 Comments »
---